Palmetto Giving Day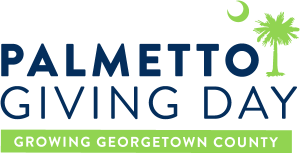 Palmetto Giving Day is an online giving event for Georgetown County that is held annually on the first Tuesday in May. This year's Palmetto Giving Day took place on Tuesday, May 3 and Wednesday, May 4. 62 organizations collectively raised $3 million during the 36 hour event.
Participating nonprofit organizations, along with their donors and the community, make Palmetto Giving Day a huge success. The grassroots effort began in 2017. Since its inception, we have raised over $9.8 million dollars. Together, we're making Georgetown County a better place to live, work and play.
We are excited to kick off our planning for Palmetto Giving Day 2023.
Are you a non-profit organization serving Georgetown County?
Are you a 501 C3?
Are you looking to attract new donors?
Are you looking for a fun and engaging fundraising opportunity?
If you are, Palmetto Giving Day is an exciting fundraising opportunity for you! Join us on Tuesday, October 25 at 9:30am to learn more about Palmetto Giving Day. Space is limited to up to 2 representatives per organization. Your organization must have someone present at the kickoff session to participate in Palmetto Giving Day 2023. 
To register for the Kickoff meeting go to: pgd2023kickoffmeeting.rsvpify.com
For more information or if you have questions, please contact us at: palmettogivingday@gmail.com.